Sunday Run/Hike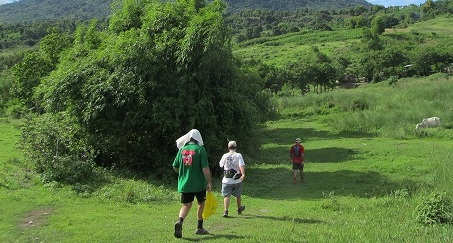 Who: Strictly Men Only
When: Once a Month - Determined by Hare
Price: Determined by Hare on the day (to cover transport and drinks)

Upcoming Angeles Hash runs
Previous Angeles Hash runs
Number
Date
Location
Remarks
Hare
1 2 3 4 5 >
435
5/27/2023
Start at Thi Hi Bar 3 PM
250 per hasher for drink stops and circle. That's the start. Approx. 4.5 KMS. Easy run. Enjoy the wonderful sights of Angeles City.
Trucka and Bangka Blower
434
4/22/2023
3 PM Thi Hi Bar near Hangout Bar.
It will be easy run with 3 drink stops. trail A to A easy 5 KMS. 250 Pecos per hasher.
Trucka & Honeydew
433
4/1/2023
No beach in Angeles? Don't be a fool! Find out at Jolibee Friendship!
Nancy boy
432
3/4/2023
Jollybee at friendship.
No fees, finish will be close to premier.
Urangutak
431
2/4/2023
Registration at formerly "Old Flaming bar" across wild orchid resort in A Santos street.
Bring 300p for 2 beers at beerstop and 2 beers at the on home. 5-7km is planned. F..cking lazy bastards will be informed at the beer stop about the on home so they can short cut. On home is not far away from Santos street. The FFB at the beer stop will win a bottle of wine sponsored by the hare. See you all there, Sauerkraut.
Sauerkraut
430
1/21/2023
Start 3 PM at Thigh Hi Bar Perimeter Road near to Hang Out Bar.
Easy run with a few cleansing ales. 250 PHP per hasher.
Yakkidiyak & Trucka
429
12/16/2022
FRIDAY 16 Dec. 3 PM start. A to A candy trail. Bring candy for local kids for their Christmas joy. bring your santa hats also.
Note it is on a Friday, and a candy run. Advise of run length later as we don't know yet only start and finish.
banka blower & trucka
428
11/26/2022
Start at Jollibee Friendship
A to B Their will be transport available for your bags at the start. Leave your vehicles near Honey Kos. About 5 Kms with short option.
honeydew and trucka
427
10/15/2022
Starts at Premiere, P200 sign up, easy town stroll, refreshment stop along the way
Wingnut & Trucka
426
9/17/2022
Emotions Bar
Phenomenal 5k (ish) run around the majestic streets of Angeles. 200p run fee will include 2 FREE BEERS
Butt King
425
8/27/2022
Emotions bar
Easy 5 km run and very easy 3km run around the scenic streets of Angeles. 200 pesos run fee
Charcoal
424
7/30/2022
Leave Premiere 3 Pm.
It will be a great day with the 3 Amigos. 200 PHP per Hasher. Short 4KMS Long 5KMS. Easy trails of cause.
Bangka Blower, Honeydew & Trucka
423
6/25/2022
3 PM start Emotions Bar
5KM trail and 3 KM trail. 200 PHP per hasher. Enjoy.
Bangka Blower & Trucka
422
5/28/2022
Premiere.
A 1k trail and a longer trail.
Two Bottles
421
4/23/2022
St. Georges Day run. Start Premier Hotel 3 PM. Please bring your England shirt if you have one as it also a tribute run to Seemore Stains.
A to B run. transport available for backpacks etc. on home has shower and pool so bring towel.3 trails Medium, Short, and Cripple.
Bumsteer & Suso
420
3/26/2022
3 PM start from Premier Hotel. There will be transport for your backpacks to the on home
A to B run Easy 5 km run through the scenic sights of Angeles City. Some delicious street food on the trail if hungry.
Trucka
419
2/26/2022
3 PM start at Maxies Restobar just down from Valdes Store. Those with cars know where to park as you know where we will end up.
Not a hard trail probably about 5 KMS.
kaput & Trucka & Honeydew
418
2/5/2022
Not Premiere
No
Unfortunately not Nancy Boy
417
1/22/2022
Start Jollibee Friendship 3 PM finish TBA park cars near Premier Hotel we will finish near there.
That's the start and finish worked out just got to work out the middle bit.
honeydew and trucka
416.
12/18/2021
Starts Premiere at 3.00Pm.
Please note it's only a short hike, please bring your Xmas hat and plenty of candy as we hope to meet up with banana man to give out candy to the kids.If you don't want to do the Run, On-Home is Premiere.
Keep the Change & Lost Soles.