Sunday Run/Hike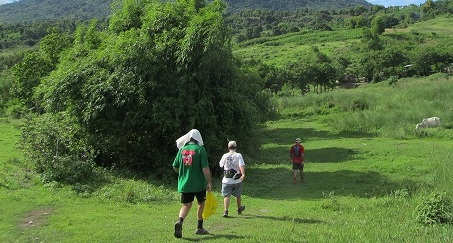 Who: Strictly Men Only
When: Once a Month - Determined by Hare
Price: Determined by Hare on the day (to cover transport and drinks)

Upcoming Angeles Hash runs
Previous Angeles Hash runs
Number
Date
Location
Remarks
Hare
< 2 3 4 5 6 >
374
10/14/2017
Start is Jollibee at Friendship. If you have car park near Honey Cos (last bar. If not bar hopping park near Premier Hotel)and take jeep to Jollibee. Pool at on home.
Diamond? NO! maybe Gold or Silver. Bags taken by Starship to on home by Scottie. Beam me up Scottie.
Honeydew & Trucka Fucka
373
9/16/2017
Meet at Niagara on Santos Street. Don't be late! A to B run. Probably the worst BEACH in the world!
Transport of bags from A to B will be in luxury limousines (or trike depending on ticket class). Bring your Mankinis. Swimming allowed.
Vendor Bender & P. Licker
372.
8/19/2017
Transport from Niagara, don't be late..
The dynamic Duo to entertain us, as only they know how.. Back to basic's Beach run, ending at STB.
2Bottles and Single Malt.
371
7/29/2017
Meet at Niagara
Jeepney transport. Long run 6 k. Short run 4 k. On home has pool. Bring swim gear. Transport of your bags available.
Kaput & Trucka Fucka
370
6/24/2017
Meet Niagara.
Townrun, bring swimming gear, transport for bags available.
Samba Labamba & Susu
369.
5/20/2017
Yes, we have a location thanks..
Well!, that's remarkable, Team hares.
The Scandinavian team.
368
4/15/2017
Meet at Niagara 3.00 PM
On home has a lovely pool (we can all use this pool) Trail length to be advised later
kaput & trucka fucka
367
3/25/2017
2PM at Niagara! 5KM walkers! 8KM runners! Shitty trails! Shaded on home (NO swimming pool)! Seated circle! Men only!
P200 per hasher! Vehicle will bring your bags from A to B
Proposition and Wild Wolf!
366
2/25/2017
Niagara
Transport. Two trails, 3Km and Longer one...
Two bottles
365.
1/21/2017
BEACH IS CANCELLED.
HARE IS NOT WELL.
Two Bottles.
364
12/2/2016
Ambassador Suites, Flora Street, Malabanias (go to traffic lights nr Checkpoint, turn down heading away from SM Clark, approx 100m along take right turn opposite Tiger Hotel then take the 2nd road on left - this is FLORA STREET and Ambassador Suites is the large white building on the right.
Just 5 days to go until the greatest ACH3 BEACH Hash ever gets underway and with 65 paid registrants, it's set to be a hash-tastic day of fun! T-shirts have been ordered and wearing of them is an essential part of the activities. Anyone that does not wish to carry around the shirt they arrive in can leave it behind in a plastic bag with your name on and we'll redistribute on Sunday's run. Registration will be open from 11:45 with proceedings starting at 12:15…SHARP! If you are running late or cannot make the registration, please arrange for someone else to pick up your shirt on your behalf as we will not be carrying them around with us. Anyone wishing to attend who has not paid, please contact me before Thursday 1st December. Registration on the day WILL NOT be possible. On On Deep Throat (0928 3628 136)
Deep Throat
363
11/26/2016
Meet Niagara hotel and jeepney will leave promptly at 2:30 PM to go to run site.
*NOTE NEW START TIME* A to B trail
K**t Thief & Pussy Licker
362
10/22/2016
The hares can't tell you as they don't know. But they know where the start is though. Hmmm, that's not true, Mr Wanker is never sure of anything....
Transport of bags, to the on-home, will be provided by luxury limousine.
Bush Wanker & Suso
361
9/17/2016
Niagara 300PM
Easy run bring towel for swim in luxurious resort pool
Kaput & Trucka Fucka
360
8/27/2016
3pm Niagara
5 to 6 km run. No fee to Hares.EDIT!, if driving park near Premiere, bags will be transported to On-Home. Pool and shower. Men only.
Suso and Runisorass
359
7/30/2016
Town run start at Charlies At The Bend
5 Km run, On home has Pool and Gym.Transport for bags at start. If driving park near Premier Hotel and get jeepney to Charlies.Fees payable to Hares is ZERO Pesos
Kaput & Trucka Fucka
358.
6/25/2016
Don't go to Niagara, the run starts at Friendship.
there will be a 100 pesos running fee, collected at the start. transport provided for your bags. Expect the unexpected...O'dear haha. Click on Run No. for more info.
Runisorass & Morf.
357.
5/28/2016
It will be a Intown run..
6Km trail, then Funtime.
2bottles.
356
4/30/2016
Niagara.
8k and 4k runs. No wet feet. On home has swimming pool and shower. Transportation of your bags to on home will be available.
Trucker Fucker & Kaput
355.
3/26/2016
Sacobia area.
Transport. Don't be late. 2.30pm!!
Single Malt.