Sunday Run/Hike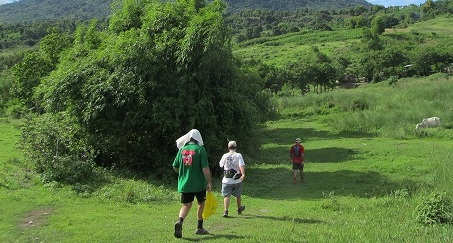 British Empire and American Colonies #376.
Saturday, November 25, 2017
Time: 3.00pm from Premiere.
Location: We shall all know on the day.
Remarks: Transport. A to B.
Hare: K. Thief.
Who: Strictly Men Only
When: Once a Month - Determined by Hare
Price: Determined by Hare on the day (to cover transport and drinks)

Upcoming Angeles Hash runs
Previous Angeles Hash runs
Number
Date
Location
Remarks
Hare
< 1 2 3 4
358.
6/25/2016
Don't go to Niagara, the run starts at Friendship.
there will be a 100 pesos running fee, collected at the start. transport provided for your bags. Expect the unexpected...O'dear haha. Click on Run No. for more info.
Runisorass & Morf.
# 339
9/20/2014
Every one will meet at Margarita Station at 230pm Sat 20th !!!!!
There will be Two Separate Trails for this Beach !!!! The Jeep will leave Margarita Station for the Long Run at 3pm & the Short Run will leave at 230pm !!!! Single Malt will be doing the long Run/trail at Sapang Boto !!!!!The Malaysians & those who wish to do the long Trail will leave with Single Malt on the jeep!!!!! Rusty Nail Will be doing the Short Trail for the Slow Walkers & Cripples from the Old Friend Ship Gate at aprox 4pm !!! The Slow Walkers & Cripples will catch a Friendship Jeep from Check Point at 330 pm and will start at 4pm (Approx ) from the old Friendship Gate !!!! The short Trail will be Approx 4 to 5 K's (no longer than 5 k's) The two groups will meet back up at Brass knob at Appox 530 pm for short Circle & some Happy Hour Beers !!!!!
Rusty Nail & Finger in the Dyke & Single Malt
341.
11/1/2014
Meeting place is Mrs Robinsons, be there before 2.00pm.
This Beach is combined with the Bushranger, so one trail for the both
Soggy.
370
6/24/2017
Meet Niagara.
Townrun, bring swimming gear, transport for bags available.
Samba Labamba & Susu
344
4/11/2015
Meet outside bar next to Honey Ko's on Perimeter Rd. Trail starts Sapang Bato Gate
Trail ~11 km of mostly flat, fastish terrain. There will be creek crossings, so expect wet feet. Bring water as there is little cover!
Leech My Nuggets
348
8/15/2015
Jeepney leaves from Niagara bar/rest. in Santos street at 3:00 PM sharp.
Trail is A-B. Secure place will be available to store bags, etc., while you're on the trail.
Pussy Licker & Scrotum
350
10/10/2015
Friendship , new Jollybee parking Lot.
Transport for your bags to finish will be available. Bring towel and gear if you want to swim at the onhome. Park your cars near Phoenix Hotel and take the Jeepney to Friendship. Run will be 5 to 6 k
Kaput & Trucker Fucker
373
9/16/2017
Meet at Niagara on Santos Street. Don't be late! A to B run. Probably the worst BEACH in the world!
Transport of bags from A to B will be in luxury limousines (or trike depending on ticket class). Bring your Mankinis. Swimming allowed.
Vendor Bender & P. Licker
362
10/22/2016
The hares can't tell you as they don't know. But they know where the start is though. Hmmm, that's not true, Mr Wanker is never sure of anything....
Transport of bags, to the on-home, will be provided by luxury limousine.
Bush Wanker & Suso
309
4/14/2012
Not Telling..
Transport.
Induces Mens.
355.
3/26/2016
Sacobia area.
Transport. Don't be late. 2.30pm!!
Single Malt.
320
3/23/2013
Shhhh!
Transport. i am assured by 2bot. that it is NOT a ballbuster, so come along for a good day out..
Two Bottles.
366
2/25/2017
Niagara
Transport. Two trails, 3Km and Longer one...
Two bottles
369.
5/20/2017
Yes, we have a location thanks..
Well!, that's remarkable, Team hares.
The Scandinavian team.
# 333
3/15/2014
Starts Just past the New Friendship Gate on the road going to Sapang Boto If Your Walking from Old Friendship jeep Stop walk on the Rt side of the street & U will see Beach Hash marks to the Start.
Will be a easy 4 k Walk & a Small Circle with a few beers. Then after the circle, will do A Bar Hop !!!! This is not a Rambo Beach, Don't like short trails , you don't have to come !!! it's for the Old Time Hashers & Cripples !!!!!!!! if You bring a bag or drive a Car go to 3 J 's which is off Texas St on the Alley Way !!!!! or you will have to carry your bag !!!!! No place to park Your Vehicles at the start. Not unless you leave them at the old Friendship Gate Area!!!!
rusty nail ???????