Sunday Run/Hike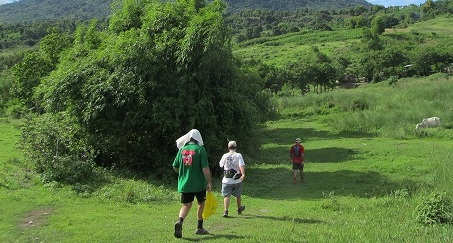 British Empire and American Colonies #385
Saturday, August 18, 2018
Time: 3.00 PM Premier Hotel
Location: Leave Premier 3.00 Pm
Remarks: P300 per hasher to cover Transport & light refreshments. 2 trails Short about 4 kms. Long is longer.Also t shirt available so bring extra money.
Hare: Trucka & Honey Dew & Bunka Blower
Who: Strictly Men Only
When: Once a Month - Determined by Hare
Price: Determined by Hare on the day (to cover transport and drinks)

Upcoming Angeles Hash runs
| Number | Date | Location | Remarks | Hare |
| --- | --- | --- | --- | --- |
| 385 | 8/18/2018 | Leave Premier 3.00 Pm | P300 per hasher to cover Transport & light refreshments. 2 trails Short about 4 kms. Long is longer.Also t shirt available so bring extra money. | Trucka & Honey Dew & Bunka Blower |
Previous Angeles Hash runs
Number
Date
Location
Remarks
Hare
1 2 3 4 5 >
351.
11/21/2015
transport, so will be out in the beautiful countryside of Pampanga.
Don't be afraid, this is Not a Marathon, this is male bonding time, Cheers.
2 Bottles
No. 326
9/28/2013
Shhh..
2 Bottles
314
10/16/2012
2 Bottles
308
3/24/2012
2 Bottles
337.
7/26/2014
Start is at old Friendship gate.
7km. So not to difficult.
2 Bottles.
372.
8/19/2017
Transport from Niagara, don't be late..
The dynamic Duo to entertain us, as only they know how.. Back to basic's Beach run, ending at STB.
2Bottles and Single Malt.
357.
5/28/2016
It will be a Intown run..
6Km trail, then Funtime.
2bottles.
346
6/23/2015
The concrete benches/open market area where the old railway lines intersect Fields Avenue, on the same side of the road and just up a bit from JJ.
Olde skool BEACH. 5km max, no women, no dogs, no kids, no gays, no wet feet, no early starting, no armchairs, no whinging. This is back to hashing at it's best, start together, run together, drink together. Car Drivers: Park near Premiere Hotel. Chaps: Please bring your swimmers if you fancy a dip, no mankinis allowed.
Bloody Fairy
327
10/22/2013
Everyone make your own way to meet at corner of Perimeter Road and Friendship Highway (opposite KTV Diba, start of Korea Town).
A-B run involving some left turns, some right turns and some parts straight ahead. Drivers can leave cars on Malabanias Street, nr the Petron and get jeepney to start. Bring trunks (budgie smugglers) if you want a cooling off dip afterwards.
Bloody Fairy & Deep Throat
354
2/20/2016
BEACH oustation run on Saturday 20th Feb 2016. Meeting 2:30pm (no longer 3pm) at Johanssons, Barrio Baretto. Transport options - share a ride, taxi, fly the bus, Southern Cross, Victory Liner, cycle, walk or stay over night and come back Sunday morning. Standard BEACH traditions, MEN only, short trail and lots of fun. At last a BEACH run on the BEACH?
Bloody Fairy and/or Deep Throat
377
12/16/2017
Meet at friendship Jollibee
Transport for bags available. Bring swimming gear. Please bring extra 0 pesos for fees.
Bush Wanker
362
10/22/2016
The hares can't tell you as they don't know. But they know where the start is though. Hmmm, that's not true, Mr Wanker is never sure of anything....
Transport of bags, to the on-home, will be provided by luxury limousine.
Bush Wanker & Suso
302
10/29/2011
Deeo Throat + 2 Bottles
364
12/2/2016
Ambassador Suites, Flora Street, Malabanias (go to traffic lights nr Checkpoint, turn down heading away from SM Clark, approx 100m along take right turn opposite Tiger Hotel then take the 2nd road on left - this is FLORA STREET and Ambassador Suites is the large white building on the right.
Just 5 days to go until the greatest ACH3 BEACH Hash ever gets underway and with 65 paid registrants, it's set to be a hash-tastic day of fun! T-shirts have been ordered and wearing of them is an essential part of the activities. Anyone that does not wish to carry around the shirt they arrive in can leave it behind in a plastic bag with your name on and we'll redistribute on Sunday's run. Registration will be open from 11:45 with proceedings starting at 12:15…SHARP! If you are running late or cannot make the registration, please arrange for someone else to pick up your shirt on your behalf as we will not be carrying them around with us. Anyone wishing to attend who has not paid, please contact me before Thursday 1st December. Registration on the day WILL NOT be possible. On On Deep Throat (0928 3628 136)
Deep Throat
352
12/12/2015
Premier Hotel
The A-Z is back and strictly MEN only. Please arrive promptly, do not miss the start as we are live haring a trail taking in 26 bars. 11:30 Registration (P200 per person) & collect commemorative goody pack 12:00 Photoshoot and Briefing 12:12 Departure for A Bar
Deep Throat & Bloody Fairy
378
1/5/2018
Start from Premiere Hotel at 3:30
The 'B' team got something brewing. Transport for bags availale. No swimming.
Honey Dew & Bunka Blower
374
10/14/2017
Start is Jollibee at Friendship. If you have car park near Honey Cos (last bar. If not bar hopping park near Premier Hotel)and take jeep to Jollibee. Pool at on home.
Diamond? NO! maybe Gold or Silver. Bags taken by Starship to on home by Scottie. Beam me up Scottie.
Honeydew & Trucka Fucka
304
12/27/2011
Going to Sacobia.
Any inquires to Morf. cel-09212504250.
Induces Mens(aka pain in the ass) & Morphine
328
11/30/2013
Transport.
Expect the Unexpected..
Induces mens.
321.
4/27/2013
Only the Hare knows, We hope!
The Run is A to B.
Induces Mens.