Sunday Run/Hike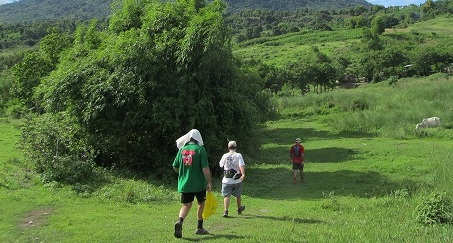 Who: Strictly Men Only
When: Once a Month - Determined by Hare
Price: Determined by Hare on the day (to cover transport and drinks)

Upcoming Angeles Hash runs
Previous Angeles Hash runs
Number
Date
Location
Remarks
Hare
< 1 2 3 4 5 >
329
12/28/2013
Junction of Perimeter Road & Friendship Highway.
Hares will not be at the start - all hashers to start at the same time, 3:00 PM, sharp. No early starters please.
Single Malt & Pussy Licker
318
1/19/2013
Pag-Asa road. Run starts 1st left after Vindale Farm sign.
A comfortable 9.5kms. A--B. Dry feet run.
Single Malt & Pussy Licker
349
9/26/2015
Friendship. Usual place.
Hello Brian will be at Friendship 01.00. Need your know how regarding the bar hop.
single malt & two bottles
379
2/10/2018
Meet at Niagara lounge in santos street.
Jeepney transport.
Single Malt & Two Bottles
347
7/25/2015
Charlies On the Whats It. Top of Perimeter Road.
The forgotten Hash pops it's head over the foxhole
Single Malt & Two Bottles
355.
3/26/2016
Sacobia area.
Transport. Don't be late. 2.30pm!!
Single Malt.
311
6/23/2012
not telling
Soggy
7/2011
7/30/2011
Friendship
Date is fixed
Soggy Dickhead
341.
11/1/2014
Meeting place is Mrs Robinsons, be there before 2.00pm.
This Beach is combined with the Bushranger, so one trail for the both
Soggy.
334.
4/29/2014
Start is at the Resto. Charlies on the Bend, Opposite the BPI bank, 200M before the old friendship gate.
A to A. About 6/7Km.
Soggy.
322.
5/28/2013
Make your own way to the SM Hypermarket(Old Makro) on MacArthur hiway,between Dau and Mabalacat, left side,OR meet at Niagara 3.00pm, and go en-mass on the jeep from the Hiway.
A to B. not to long, but not to short..Do hash exercises before you start, bending the right arm! FORGOT, bring 10 pesos for the jeep ride..
Soggy.
360
8/27/2016
3pm Niagara
5 to 6 km run. No fee to Hares.EDIT!, if driving park near Premiere, bags will be transported to On-Home. Pool and shower. Men only.
Suso and Runisorass
369.
5/20/2017
Yes, we have a location thanks..
Well!, that's remarkable, Team hares.
The Scandinavian team.
385
8/18/2018
Leave Premier 3.00 Pm
P300 per hasher to cover Transport & light refreshments. 2 trails Short about 4 kms. Long is longer.Also t shirt available so bring extra money.
Trucka & Honey Dew & Bunka Blower
380
3/17/2018
Leave Niagara 3 PM
St. Patrick's Day run. Please wear green. To the survivors of last run this a traditional BEACH RUN. Short run 4 kms. Long 7 kms. Great day planed.To be sure, to be sure
Trucka Fucka and kaput
356
4/30/2016
Niagara.
8k and 4k runs. No wet feet. On home has swimming pool and shower. Transportation of your bags to on home will be available.
Trucker Fucker & Kaput
366
2/25/2017
Niagara
Transport. Two trails, 3Km and Longer one...
Two bottles
316
12/12/2012
12-12-12 run. On On
Two Bottles
384.
7/21/2018
Transport to start of run.If raining No transport.
Start changed to Niagara. Short run 3km, Medium 6Km.
Two Bottles.
365.
1/21/2017
BEACH IS CANCELLED.
HARE IS NOT WELL.
Two Bottles.